The most Unique historic community in Central Illinois.
Jacksonville was a beacon of education and service in the early history of the United States, and that shining history still exists in our community today. The museum was established in the 1980s, and moved to its new home in the old Jacksonville Post Office in 2021. The beautiful federal-style structure is the perfect location to showcase our ever-growing collection to tell our community's compelling stories.
The Museum is also the home of the MacMurray College archive collection, which is on long-term loan from the MacMurray Foundation for preservation, display and interpretation.
Watch this page for updates, or visit the Jacksonville Area Museum on Facebook.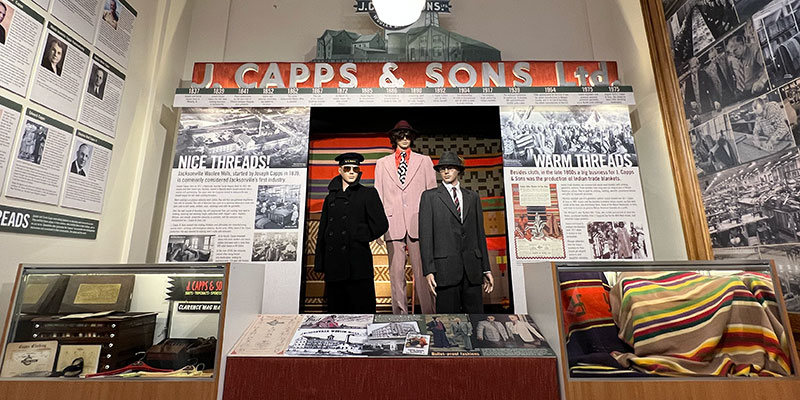 Our Newest Exhibit
Nice Threads! The History of J. Capps & Sons, Ltd.
Learn more about this new exhibit on Jacksonville's notable clothing manufacturer. This exhibit is currently on display on an open-ended run at the museum.
News
The Jacksonville Area Museum will celebrate its one-year anniversary with a special open house during the museum's regular hours of operation on Sunday, September 25 from 1 to 4 p.m. The open house will feature photographs of the old Post Office building before it was transformed into a museum, a brief program at 2 p.m., […]

"Nice Threads," a new major exhibit featuring the history of the Capps Clothing Company, will officially open to the public on Saturday, July 16 at the Jacksonville Area Museum in downtown Jacksonville. A special preview for museum members only will be offered on Wednesday evening, July 13. "Nice Threads" traces the history of the company […]

The Jacksonville Area Museum is proud to announce its new history podcast! Spring is a time for new things, and our podcast is the newest way to share the wonderful audio stories of the Jacksonville area. You can listen to the story directly from the person who lived it, or has direct knowledge of the […]