The most Unique historic community in Central Illinois.
Jacksonville was a beacon of education and service in the early history of the United States, and that shining history still exists in our community today. The museum was established in the 1980s, and moved to its new home in the old Jacksonville Post Office in 2021. The beautiful federal-style structure is the perfect location to showcase our ever-growing collection to tell our community's compelling stories.
The Museum is also the home of the MacMurray College archive collection, which is on long-term loan from the MacMurray Foundation for preservation, display and interpretation.
We invite you to visit the Jacksonville Area Museum, and start your journey of discovery of West Central Illinois.
Visit the Jacksonville Area Museum on Facebook.
---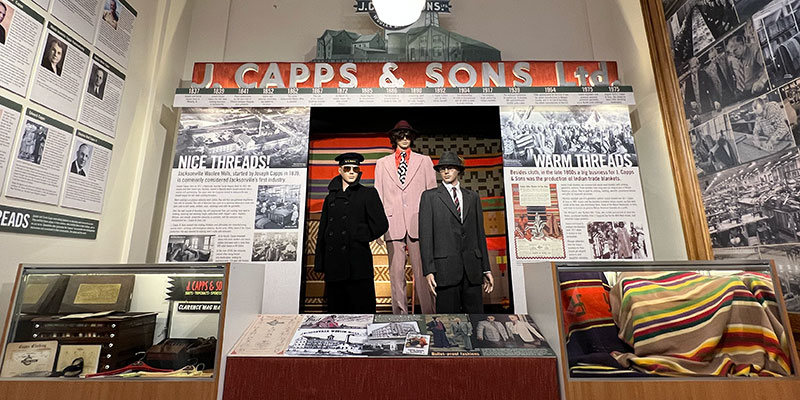 Nice Threads! The History of J. Capps & Sons, Ltd.
Learn more about this new exhibit on Jacksonville's notable clothing manufacturer. This exhibit is currently on display on an open-ended run at the museum.
News
The talents of area LEGO enthusiasts will once again be on display when the "Building with Brick – The Art of LEGO" exhibit opens Saturday, December 2 at the Jacksonville Area Museum. The exhibit will run through the end of February, 2024. The exhibit includes a three-foot replica of the ill-fated Titanic, the amazing Concord…

Got your tickets?!!? Time is running out! The Jacksonville Area Museum's "Night at the Museum: Living Wax Legends," featuring special first-person portrayals of historic local residents and a sneak preview of the museum's exciting new phase of development, will return for a final time on Wednesday, November 15. The first "Night at the Museum," offered…

Calling All Lego Artists! It's back, and better than ever! The Jacksonville Area Museum is seeking to show off YOUR Lego abilities! Both young and old can submit their original creation or Lego kit to the upcoming annual exhibition 'Building with Brick – The Art of Lego.' Due to last year's popularity, the exhibit will…